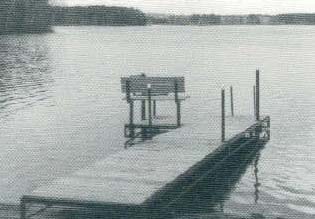 We are the manufacturers of Roll-in brand docks.
Our aluminum docks are the lightest dock you will find.
This gives our docks unparalleled strength, durability, and stability. They also come with
plastic decking, that has a lifetime warranty. This decking is guaranteed never to break,
get hot or slippery. You will find that this is the best decking in the industry. Our aluminum
docks also come with plastic tires and sand pads.
There are many options and lengths to choose from and are available from 8 feet and up.
Prices on most popular models:
32 Ft. Aluminum Straight $2600
32 Ft. Aluminum with L-Section $3299
16 ft straight section-$1600
8 ft section $799
4 ft ramp $599
8 ft ramp $999
alum bench $399
Floating docks are only offered in straight sections. They come with 12 inch tubes. We have them in 4 ft wide and 6 ft wide.
38 ft floating dock with one set of 10 ft poles. $4000
40 ft floating dock with one set of 10 ft poles  $4500
40 ft by 6 ft wide dock $6500
dock hinge to connect two docks $300