The pontoon lift that goes where you go! Hewitt Pontoon Leggs for a two tube pontoon boat. $4295 or $4995 installed. If you have a tritoon the Pontoon Legs are $6500 or $7500 installed. Canopy for the lifts $4500 for a 26 ft.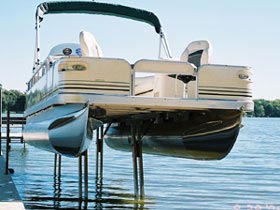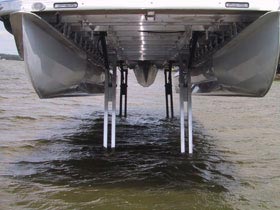 Secures your boat. No drifting, no anchors, no banging against the dock.
Makes it easy to park your boat in high winds and rough water.
Keeps tubes out of the water when pontoon is not in use, avoiding algae and discoloration.
Eliminates bulky, stationary lifts.
Works in muck and all other lake bottoms.
A one year warranty is offered on remaining components.
Does not affect boat performance.
Can be used with any pontoon trailer.
What are Hewitt Pontoon Legs?
Hewitt Pontoon-Legs pontoon lift.
What type of boats can have Pontoon Legs?
Hewitt Pontoon Legs will fit on most 18 to 28 foot pontoon boats. Pontoon Legs will not work on solid-hull boats. Pontoon Legs can be installed on a new pontoon or added to a used boat. In all cases, installation must take place out of water.
Can I install Pontoon Legs myself?
Generally, no. In order for your Hewitt-Legs warranty to be in effect, Hewitt-Legs must be installed by an Authorized Hewitt-Legs dealer.
What is the lift height?
Pontoon Legs will lift a boat 6 feet, measured from the bottom of the pontoon deck to the bottom of a body of water. In order to consistently have your tubes out of the water, pontoon Legs work best in water of around 4 feet or less.
Where can I use Pontoon Legs?
Pontoon Legs can be used anywhere with water depth of six feet or less. Pontoon Legs are most commonly used to replace a conventional lift at a standard dock, but can also be used to park at sandbars or on-water restaurants, for visiting neighbors, shore fishing, getting gas and more.
How are Pontoon Legs powered? Do I need an extra battery?
pontoon Legs run off standard marine-grade boat batteries. There is no need for additional power. We recommend a battery of at least 750 cold-cranking amps.
Will pontoon Legs work on all lake bottoms?
Yes. Pontoon Legs are being used on all types of lake and river bottom surfaces. As long as your water is not too deep for Pontoon Legs (over 5 feet), Pontoon Legs will work well on your lake or river bottom.
How do Pontoon Legs keep my boat level?
Your front and back Pontoon Legs can be operated independently or in tandem. This allows you to raise or lower the front of your boat, raise and lower the rear or do both at once, in order to compensate for a less than perfectly level lake bottom.
Will Pontoon Legs affect my boat's performance?
No. When fully retracted, Pontoon Legs tuck to within 5 inches of your pontoon deck's bottom, meaning they do not drag in the water as you drive. Pontoon Legs' total weight is about 300 pounds, evely distributed on the boat.
Do Pontoon Legs carry a warranty?
Yes. Pontoon Legs carry a two-year limited warranty. The first year covers parts and labor, the second year covers parts only.
Do I need to do anything to winterize Pontoon Legs?
No. We advise that you retract your Pontoon Legs fully, pull your boat off your lake or river and winterize and store it as you normally would. There is no need to do anything extra to winterize Hewitt-Legs.